GEIGER is an easy-to-use and affordable cybersecurity solution small businesses.
Cybersecurity is complex, and bringing it to everyone is an enormous challenge. GEIGER, an international Horizon 2020 project to launch an easy and affordable toolbox that helps small non-tech-savvy businesses tackle cyber risks, reached an important milestone with its beta release: Any small business can now start improving their cybersecurity with the GEIGER app.
What does GEIGER do?
GEIGER is a cybersecurity solution developed for businesses with one or a few employees and with no background in cybersecurity.
GEIGER helps you understand what the risks to your business are. It helps you assess your risks based on your location, industry, ICT infrastructure, and cybersecurity skills – with an easy-to-use app.
GEIGER allows you to select tools and actions to start tackling the risks. It gives you personalised recommendations that fit your needs and resources, for improving the security of your company with state-of-the-art tools and services.
GEIGER offers support whenever you need it. It connects you with trained Security Defenders who are ready to help you on the journey towards robust cybersecurity.
Micro and small enterprises constitute almost 99% of all European businesses. Still, they are a neglected group when it comes to cybersecurity – most solutions on offer are designed for companies with in-house cybersecurity expertise, or resources to invest in it. In these times of hybrid war and increasing number of cyber attacks, it's critical for the European economy that each and every business is protected. Cybersecurity is one of the strong priorities on the EU and Member States' agendas, but bringing it to everyone is an enormous challenge. GEIGER is being developed with this in mind, to be accessible for anyone, no matter their skill level – to invite even the smallest and least IT-skilled businesses on board.
The GEIGER Beta version is available for Android (and soon for Windows and iOS). It can be downloaded for free from www.cyber-geiger.eu. Any owner or employee of a small business can now enrol in the GEIGER beta trial, start improving their cybersecurity, give feedback, and benefit from the discount for beta testers for future versions of the GEIGER solution.
GEIGER is developed by an international group of experts in cybersecurity and education in collaboration with small businesses. GEIGER's mission is to support micro and small enterprises with no background in cybersecurity to secure their businesses, by offering them tools that fit their needs, skills, and resources. GEIGER started as an EU funded Horizon 2020 project, and is now turning into a startup that will bring GEIGER to small businesses all over Europe and beyond.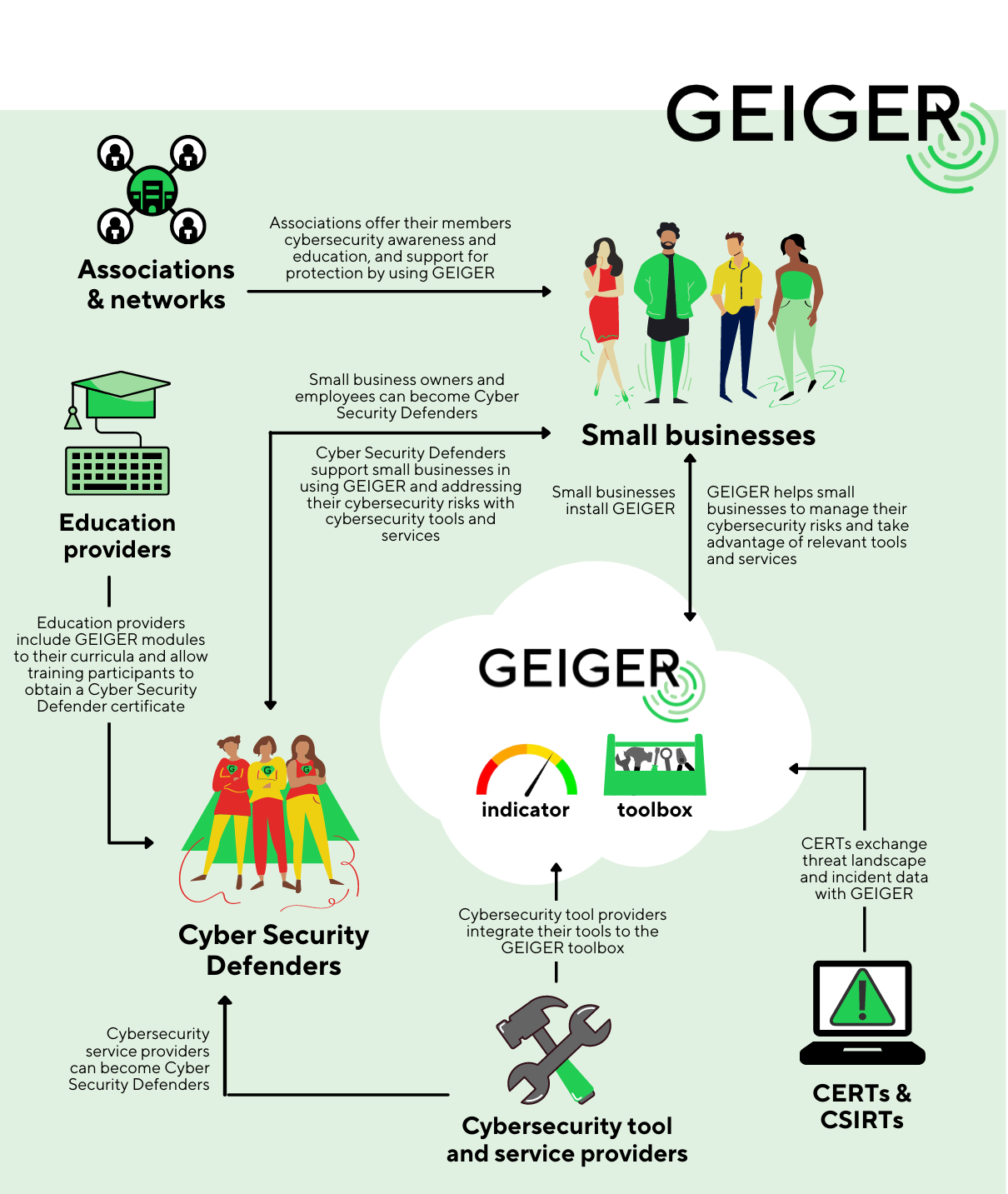 What is GEIGER ecosystem? Download the poster here. Try it out! Download the poster here.